Orangeries from Anglo are something else, providing the much sort-after lifestyle for the inspired and the aspired. An Orangery can be the dream addition to your home, enhancing the character and value of your residence with elegance and integrity.
The striking architecture and sumptuous spatial interior – achieved through careful workmanship – are a timeless and imposing statement for any homeowner to be proud of.
Browse through our outstanding selection of orangeries and discover that luxury is affordable with Anglo.
To find out more about our conservatory types, design options or to get a quote using our conservatory creator, simply select a button to the right.
Watch the Video
Orangery Roof Lantern
Typically, orangeries have a partly flat roof with a central 'roof lantern'. This is the most noticable difference between an orangery and a conservatory. This is also the component that generally causes orangeries to be more expensive than conservatories.
The Hybrid Roof – A Cheaper Option
At Anglo we are now pleased to offer a range of Orangeries which are a cheaper alternative to an Orangery with a typical roof lantern.
Both inside and outside the effect is the same however it brings down the cost by utilising a modified conservatory roof to achieve the same visual appeal.
How it Works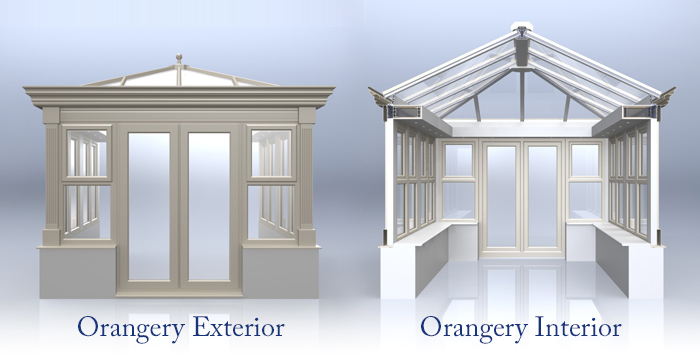 Note: We can offer both types of Orangery roof.
Colours and Finishes
Here at Anglo, we offer 10 standard colours but we also offer a RAL colour service whereby you can select any colour from the RAL Colour Chart.

Our woodgrain coatings provide a realistic looking alternative to timber and our painted woodgrain simulate the effect of real painted timber.
Click here to learn more about colours and finishes.