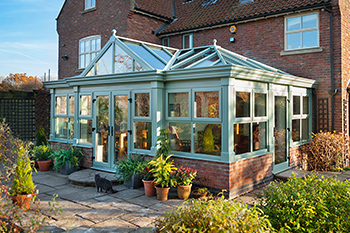 The T Shaped conservatory from Anglo is particularly suitable for large homes and can be designed in the style of a Georgian, Victorian, Edwardian or Gable conservatory. It is extremely adaptable as two distinctive living areas can be created within the one T shaped construction.
Such a versatile conservatory can have so many uses. For instance, an additional living area can be created running along the full width of the main residence and the part of the conservatory that projects out could be used to create a useful porch area or even a play area for the children.
This style of conservatory really can be used to bring the delights of your garden into your home and make maximum use of the daylight.
Anglo has a number of different build and design options such as using a dwarf wall or full height glass enabling you to tailor-make your affordable, luxury T Shaped conservatory that will be the envy of your neighbours.